Many companies these days make 2 cycle oils for all types of equipment. Some are labeled from the manufacture of the OEM component to lead you to believe that this company makes the oil as well.
Companies like Bombardier, Seadoo, Mercury Marine, Echo, Husqvarna, Stihl, Honda, Suzuki, Kawasaki, Evinrude, Skidoo, Johnson, Arctic Cat, Polaris and many more, lead you to believe they are ones that formulate and test their oil. In truth, they hire companies to manufacture their oil for them. This is not necessarily a bad thing and I'm sure that those companies would not want a 2 cycle oil that would be harmful to their equipment. Though some times they want to maximize their profits even on accessories so they find a manufacture that can spec the oil and choose the lowest bidder. In that case, your product might not be the best of the best.
What we would like you to think about is that, what if there was a company that specializes in formulating the best 2 cycle oil for your equipment? What if they wanted to help you make your equipment run better, last longer, have more power and even give you more economy, in turn saving you money? Would you be interested in taking a look at or even try that product out?
AMSOIL Inc, Lube-Direct.com and Michael Sparks – AMSOIL Dealer/ Direct Jobber are your 2 cycle engine oil specialists. We want to help you by providing the highest performance 2 stroke oil on the market. We are also factory trained by AMSOIL Inc to help you determine the best product for your equipment.
AMSOIL's line of 2 cycle oil's include:
AMSOIL Dominator Racing 2 Stroke Synthetic Oil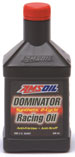 Designed high-horsepower and modified racing motors. AMSOIL Dominator provides the highest protection possible for 2 stroke motors.
Race Proven Benefits Include:
High stress high temperature protection
Increase horsepower with synthetic lubrication
Designed for 50:1 mix ratio for all racing applications
Clean burning formulation keeps pistons and plugs free from carbon build-up
AMSOIL Interceptor 2 Stroke Synthetic Oil

High Performance 2 stroke oil for the most demanding enthusiast. Designed for exhaust power valve cleanliness, AMSOIL Interceptor will give highest level performance while keeping the engine clean.
Interceptor Benefits Include
Fortified with high-temperature detergency and dispersancy additives that provide excellent engine cleanliness
Anti-scuff/anti-wear formula
Low-smoke, low-odor properties help ensure riders won't be "smoked out.
Full Synthetic formulate designed for hard riding enthusiasts so they can spend more time riding and less performing maintenance
USE AMSOIL INTERCEPTOR Synthetic 2-Stroke Oil in all two-stroke snowmobiles, motorcycles, ATVs, PWCs and where API TC oils are specified
Download the Interceptor Field Study and Rotax E-tec 3469 mile Case Study
AMSOIL HP Marine 2 Stroke Synthetic Oil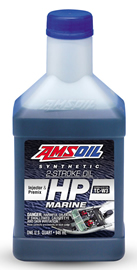 Designed for even the most discerning boater. AMSOIL HP Marine will give you high performance in your 2 cycle outboard marine engines.
HP Marine Benefits Include:
Low smoke formula great for cruising or full out boating
Low aquatic toxicity, helps protect the environment
Run clean additives will keep your engine free from deposits
Off season rust protection
Lean mix capability. Replaces Evinrude XD100
Direct Injection or mix at 50:1. For use in all 2 cycle boating applications
Be sure to download a free copy of the HP Marine E-Tec Field Study. AMSOIL shows the comparison against the Envinrude XD100 two stroke oil
AMSOIL Saber Professional 2 Stroke Synthetic Oil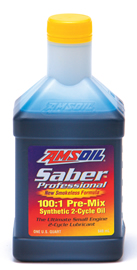 AMSOIL Saber Professional 2 stroke oil is the choice for commercial 2 cycle operators. Running 2 cycle equipment day in and day out with AMSOIL will keep equipment downtime at a minimum while producing less smoke for the operators.
Saber Pro Benefits Include:
designed for small engines including, but not limited to, chain saws, lawn equipment, blowers, chop saws, pumps, scooters and go-carts
run clean formula eliminates smoke and deposits for less downtime
professional grade 2 stroke 100:1 mix ratio still protects. Test to 300:1
For use in all handheld equipment brands like Echo, Stihl®, Husqvarna®, Homelite®, Weedeater®, Poulan®, Craftsman®, RedMax®, Jonsered and others
Click here to download AMSOIL's Saber 2 Cycle Field Study with over 200 hours of severe duty service in a logging operation.
AMSOIL Saber is an economical product when purchased in bulk for commercial applications like landscape maintenance, golf courses, municipalities and other government organizations, logging and tree care professionals.
AMSOIL Saber Outboard 2 Stroke Synthetic Oil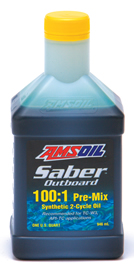 AMSOIL Saber Outboard is that product you need when you need to keep your smaller outboard motors running in tip top shape. Designed for up to 100:1 mix ratios, Saber Outboard will have the lowest smoke on the market.
Benefits Include:
Low Toxicity
Low smoke / Low Oder
Great for low speed trolling
100:1 mix increases throttle response and minimizes carbon loading and plug fouling

If you have any specific application questions please don't hesitate to Email Michael Sparks or give us a call at 931-801-9401
Other  AMSOIL products to consider for your 2 cycle engines include