How we turned a $50 investment into a profitable home based business with amsoil
Home  /  How we turned a $50 investment into a profitable home based business with amsoil
Our Story…
Originally from a small town in Ohio Michael joined the US Army as a saxophone player. After 8 years of active service he left active duty and is currently serving with over 30 years of service in the Tennessee National Guard.
In 1999, after purchasing AMSOIL products for his F150 pickup truck, Michael was amazed with the results. His truck never ran better, and after 6 months he inquired about becoming an AMSOIL dealer.  In January 2000 he decided to get serious with the AMSOIL Business Opportunity. When he started with AMSOIL, he had no experience with sales or running a business, but over time he worked hard to learn the products and find ways to help customers realize the benefits of AMSOIL. Today more than ever, the AMSOIL business opportunity is the best because the products are top quality and the company provides the ultimate in support. The best part about the AMSOIL business is that dealers get to work with others to help them achieve financial independence.
Alecia met Michael in 2008 and had never met or known anyone that was successful with a home based business. To say she was skeptical at first would be an understatement. As she was exposed to how the AMSOIL Business works and how Michael was able to help his customers and accounts take advantage of the business, it became clear that the AMSOIL Business opportunity was thriving. Alecia and Michael married in 2011 and they joined forces and work at AMSOIL together. Alecia is so excited to work from home and be able to spend time with grandchildren as well as work side by side with Michael.
Today It's easier than ever to build an AMSOIL business.
Today it's easier than ever to build an AMSOIL business. This unique opportunity allows dealers to work with Retail Businesses, Individuals and Commercial enterprises such as trucking companies and manufacturing facilities. We also work with dealers in our team to train on success at the business opportunity.  We now have time to spend with family and do the things that we've never had the time to do before. We are having the time of our life earning money; growing our business and helping others build successful AMSOIL Businesses. Financial Independence is available to those that have the desire, determination and discipline to get started and see this business through.
"People create their own success by learning what they need to learn and then by practicing it until they become proficient at it."
What is AMSOIL?
AMSOIL Inc. was founded in 1972, by Lt. Col. A.J. "Al" Amatuzio, a jet fighter squadron commander. Amatuzio knew the performance benefits of synthetics from his experience with combat Jets (only synthetics can be used in Jet engines). As of July 1st 2018 Alan Amatuzio became President and CEO as well as sole owner of AMSOIL Inc. Alan carries on a 45 plus year tradition of excellence in manufacturing. Our company is in good hands.
In 1972, after an intense period of research and development, Al Amatuzio introduced the first synthetic motor oil in the world to exceed API automobile service requirements.  In 1973, AMSOIL developed a marketing plan to get the new and innovative products out to customers. The marketing plan (known as Network Marketing) enabled customers to have personal contact with a dealer who could take the time to explain the product and answer questions.
AMSOIL continues to have an increasing range of top quality automotive and industrial lubricants, and filtration products, exceeding industry performance specifications by a wide margin. AMSOIL Corporate Headquarters located in Superior, Wisconsin reflects the commitment to excellence. AMSOIL has 14 strategically located warehouses to distribute products to Dealers and customers throughout North America and around the world. AMSOIL is:  "The First in Synthetics"

WE HAVE THE BEST OIL PRODUCTS IN THE WORLD!!!
Advantages of Using AMSOIL Products:
Saves Money
Reduced Oil Change
Improves Fuel Economy
Protects the Environment
Runs Cooler
Starts Easier
Reduces Wear
Reduces Maintenance Time and Cost
Products for virtually all applications
Technical Support from AMSOIL
AMSOIL Warranty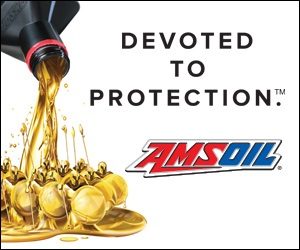 "Profits are better than Wages. Wages make you a living, Profits make you a Fortune."
FINANCIAL INDEPENDENCE!!
Unique Home Business Opportunity

Potential for High Income. No limits on what you can earn
Low startup cost.  Less than $100 to become a distributor
Great retail profits–25% plus volume discounts
Performance Commissions for building a successful Dealer Team
Huge market for AMSOIL products. Virtually everyone is a qualified customer
Be your own Boss, set your own hours
Business Accounts-Setup Factory Direct Orders, you earn cash commissions
Commercial Accounts-Factory direct, you earn cash commissions
Multiply your efforts, train other dealers in your team to build volume
Training Materials available, online, CD's, Telephone, and Seminars
No Territorial Restrictions- Account protection for life
NO INVENTORY REQUIREMENT. Factory Direct orders for accounts give you flexibility
From us to you:
"As your AMSOIL Sponsoring Dealer, We pledge to give you 100% of our support to help you get started. We will work with you in any way that we can to see you succeed.  We have extensive experience and have been to numerous training classes on products, distribution, and marketing. Working together we will increase your business and income as fast as you desire."
Michael & Alecia Sparks—AMSOIL Regency Direct Jobber
"Nothing great has ever been accomplished in a state of hesitation."

Want to learn more, Like what does it take to earn $500, $1000, $5,000 or $10,000 per month with AMSOIL? Check out the "What does it take page"