Available June 1, 2021 new AMSOIL 15W-50 Synthetic Small-Engine Oil (SEF) brings the excellent benefits of AMSOIL Synthetic Small-Engine Oil to applications that call for a 15W-50 viscosity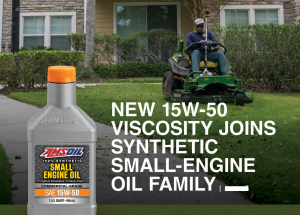 oil
Maximizes mower life
As long time exhibitors at the annual GIE Expo in Louisville Kentucky each October, Landscapers and lawn care professionals are some of our best customers. They're under tremendous pressure to complete jobs on time and up to standards, which motivates them to seek products that help them keep their expensive equipment running at peak efficiency for as long as possible, especially expensive zero-turn mowers. Lack of maintenance downtime and continuous operation in hot, dirty conditions can lead to deposits and wear that reduce engine compression, robbing the engine of power. Over time, mowers become less efficient, require more maintenance and eventually wear out altogether.
Commercial-grade formulation
Most small-engine oils that AMSOIL Inc has tested, however, are nothing more than re-labeled automotive oils, which are formulated with fuel economy in mind, not durability. That won't cut it. Compared to liquid-cooled automotive engines, small engines run hotter; operate under constant load; generate more oil-damaging contaminants; suffer from neglected maintenance; and are exposed to dirt, rain and other extremes. Simply put, they're far tougher on oil that most people think.
AMSOIL 15W-50 Synthetic Small-Engine Oil isn't merely a re-badged automotive oil. Instead, we designed it from the ground up specifically for small-engine dependability. Professionals can rest assured their engines are protected even during periods of extended use when there's no time for scheduled maintenance. It's built to solve the problems that plague zero-turn-mower engines, including wear, power loss, oil consumption, harmful carbon deposits and stuck rings and valves. It helps landscapers and other professionals get more work done and save money.
Reserve protection
AMSOIL Synthetic Small-Engine Oil is a long-life formulation that has repeatedly demonstrated its ability to safely exceed original equipment manufacturer (OEM) drain intervals in the toughest conditions. Extensive severe-service testing proves its ability to provide service life of up to 200 hours/one year, whichever comes first. It provides an extra measure of protection when equipment goes longer between oil changes than is recommended by the OEM Applications Use in small engines found in (not limited to) mowers (zero-turn, riding, stand-on, push), generators, power washers and other equipment that requires SAE 50, 10W-50 or 15W-50 motor oil.
Long service life
• Helps extend engine life
• Inhibits rust
• New 15W-50 primarily
for zero-turn mowers
4 Stroke Power Equipment
AMSOIL offers a complete line of engine oils for 4 stroke power equipment, from 5w30 to 15w50 and everything in between. Take care of your tractors, lawn mowers, and all your 4 stroke power equipment. AMSOIL also offers products like tractor/hydralic oil, hydrostatic oil, greases, gear lubes and fuel additives. Check out the entire range of AMSOIL products on the AMSOIL online store.
AMSOIL Saves Money
Fast, free shipping on orders of $350 or more ($450 in Canada) and additional yearly volume discounts for commercial accounts.
Efficient engine operations saves on soaring fuel costs up to 5% better fuel efficiency
Less downtime when high operation tempo requires equipment to be constantly engaged.
Longer engine and equipment life reduces need to replace equipment. Get the most out of your equipment
Own a lawncare business? Get information about the AMSOIL the Commercial Program. An AMSOIL Commercial Account allows you to purchase products for your vehicles and equipment at the lowest possible prices. There is no cost to you to register your business for a factory direct AMSOIL Account. If you don't own or manage a business, maybe you would like to try the AMSOIL preferred customer program. For $10 for a 6 month trial, you can take advantage of discounted pricing as well as PC Perks. You can even refer friends to AMSOIL to earn additional points. Learn more about the AMSOIL Preferred Customer Program.
• AMSOIL is an easy to use "one-stop shop." Unlike other lubricant suppliers, AMSOIL formulates a full line of products for zero-turn mowers, two-stroke equipment and fleet vehicles. Customers can purchase motor oil, transmission fluid, two stroke oil, grease, gear lube, filters and anything else they need from one supplier, enhancing convenience.
Not sure which AMSOIL account is best for you? Try our AMSOIL Account Wizard. Just click on the image below.