The new and exciting Nissan Titan XD is rolling into local dealerships this week. We had an opportunity to stop by and check out this new heavy duty pickup truck.
As an AMSOIL dealer, my first question was: "What kind of oil does this truck take". Since the Nissan XD was so new, no one at the dealership had any idea of the required oil specifications for the Cummins® 5.0-liter DOHC 32-valve V8 Turbo Diesel engine. Luckily in the age of the internet we were able to find out what oils are recommended for this truck.
We were able to find the owners manual from the owners.nissanusa.com website. From there we found the Cummins® suppliment on page 558 that lists the specifications and capacties to include engine oil.
Note, AMSOIL.com offers a vehicle lookup guide service, but because the Nissan Titan XD is so new it does not show up as of this posting.
Here is the Engine Oil Recommendation for the Titan XD with Cummins® 5.0-liter Turbo Diesel engine:
Download the engine oil recommendation in PDF for the Titan XD with Cummins® 5.0-liter Turbo Diesel: 2016_Nissan_XD_Cummins_Engine_Oil_Specification
Engine oil with API Certification Mark, Viscosity SAE 10W-30 (CES 20081) and American Petroleum Institute (API) certification (API CJ-4, Low Ash Oil).
Diesel engine oil Specification (Cold Climate) – 5W-40 oil that meets API Certification Mark (CES20081) and American Petroleum Institute (API) certification (API CJ-4, Low Ash Oil) is acceptable for colder climates.
For additional information, refer to "Engine oil and oil filter
recommendations" in this section of this manual"  note: Gasoline engine oil and diesel engine oil are not equal.
Now we have to dig a little deeper into the recommendation of the proper engine oil for the Titan.
The First recommendation calls for a viscosity of 10w30 and a secondary viscosity of 5w40 for colder climates. Below is a chart taken from the owners manual indicating the temperature recommendations
Secondly, the Cummins® specification is also needed of CES20081 as well as API CJ-4. Most oil bottles or containers will list all the specifications that oil meets. You can also contact the manufacture of the oil to determine if the oil can be used.
Lastly, always be sure to use Diesel Engine Oil. Oil designed for gas engines have different performance characteristics and can engine damage if used.
Also be sure to note that the Titan XD with the  Cummins® holds 10 quarts of oil.
Since our company is an Authorized AMSOIL Dealer, you may be wondering:
Which AMSOIL products can be used in your Nissan Titan XD w/ Cummins® 5.0-liter Turbo Diesel engine?
Currently AMSOIL has two products that meet all the required specifications.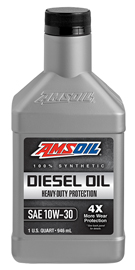 The first product is Heavy-Duty Synthetic Diesel Oil 10W-30
Heavy-Duty Synthetic Diesel Oil is formulated for hardworking equipment. It is engineered to provide 4X better wear protection, giving you the edge to keep trucks and equipment operating at peak performance. Heavy-Duty Synthetic Diesel Oil offers outstanding value and provides excellent protection for customers seeking an upgrade over conventional, synthetic-blend or competing synthetic diesel oils.. AMSOIL Heavy Duty Synthetic Diesel Oil exceeds the higher performance demands of modern engines and withstands the stress of heat, soot and acids to help prevent deposits, wear and corrosion. Meets Cummins CES 20081

If you live in Colder Regions or want the Max Protection you may want to consider the Signature Series Max-Duty Synthetic 5W-40 Diesel Oil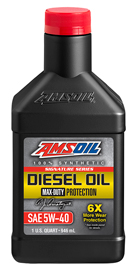 Protect your investment in diesel power and confidently extend drain intervals with our top-grade synthetic diesel oil. AMSOIL Signature Series Max-Duty Synthetic Diesel Oil delivers 6X better wear protection than required by the Detroit Diesel DD13 Scuffing Test for Specification DFS 93K222. Advanced synthetic technology provides excellent viscosity control and outstanding extreme-temperature performance, while minimizing oil consumption. The result: protection that's boosted to the max. It withstands the stress of heat, soot and acids to help prevent deposits, wear and corrosion meets Cummins CES 20081
AMSOIL Premium 5w40 Synthetic Diesel Oil features a pour point of -45°F.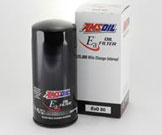 You may be wondering which oil filter you should use for the Nissan Titan XD with the 5.0 Cummins? AMSOIL recommends the EAO80 oil filter. EaO stands for Absolute Efficiency. AMSOIL Ea Oil Filters (EaO, Ea15K) have one of the best efficiency ratings in the automotive market providing a filtering efficiency of 98.7 percent at 20 microns.

If you have any questions about product applications for your cars, trucks or equipment please feel free to contact us. We will do our best to find the best product for your application.
Contact Michael Sparks, AMSOIL Dealer/Direct Jobber
Call or text 931-801-9401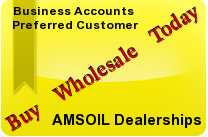 *Aftermarket oil additives are not recommended for use with AMSOIL motor oils.
updated products and specs as of 6/28/18 please consult the
AMSOIL Vehicle lookup guide
for latest information on your vehicle recommendations.