AMSOIL Inc, located in Superior Wisconsin is the worlds leader in manufacturing high performance synthetic lubricants.
In our latest informational video, AMSOIL Corporate explains how AMSOIL products are made as well as explaining the exacting performance standards that AMSOIL products are made to.
Watch the video below.

Many people have had the chance to use our products over the years. We became believers in AMSOIL products and the company afer using AMSOIL in our 1997 F150 pickup truck. We experienced better fuel economy, longer oil changes and higher performance compared to the oil synthetic oils we were using.
After a period of time we decided that these products were just too good to keep a secret and became Independent AMSOIL dealers. This low start-up cost business opportunity has allowed up to be part of the AMSOIL company and brand. We feel we are part of the family.
We invite you to experience AMSOIL for yourself.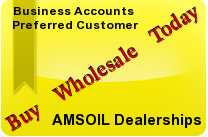 Check out our related posts: