Many people do not understand how automatic transmission fluid works. Automatic transmissions are a very complex machine that can propel a vehicle down the road, pull heavy loads, and are easy to operate compared to manual transmissions.
Understanding how an Automatic transmission works is essential to understanding why using a high quality synthetic automatic transmission fluid can help your equipment run cooler, smoother and more efficient. All while reducing downtime and extending transmission life.
Automatic transmissions are one part hydraulic pump, one part gear transmission and one part automatic clutch. The hydraulic pump converts the power from the motor to fluid power which drives the gears. The pump part is what causes an extreme amount of heat. Combined with the automatic clutch which must have the proper frictional characteristics to maintain lockup of the gears at the right engine speed and load, the Automatic Transmission Fluid, or ATF has a severe role to play in your vehicle's ability to go down the road.
Len Groom, AMSOIL Technical Products Manager explains in this video why it's so important to use a quality synthetic transmission fluid.

What happens when you use an inferior transmission fluid?
During periods of severe service ie. towing, stop and go driving, high temperature operation the transmission fluid overheats to the point of rapid deterioration. This can cause the fluid to become burnt. Once the fluid gets to the point of rapid break down, it must be replaced immediately. High transmission temperatures can cause sludge to form, metal to metal contact in the gears, clutch plates to glaze over and transmission failure.
AMSOIL, the first company to develop a 100% synthetic automatic transmission fluid can help your transmission run cooler, last longer and run more efficiently all of which will save you money.
In 2013 AMSOIL complete an evaluation of a taxi cab fleet that covered over 100,000 miles of extreme Las Vegas Nevada.
This was an evaluation of AMSOIL Signature Series Multi-Vehicle Synthetic ATF and Signature Series Synthetic Motor Oil operated under severe-service conditions for extended drain intervals.
Download the:
Las Vegas Taxi Cab Field Study (G3118) (1.5MB PDF)
To conclude, we hope this information will help you realize that the lubricant that runs and protects your automatic transmission Is the "Most Important Lubricant in your Vehicle"
Purchase AMSOIL ATF factory Direct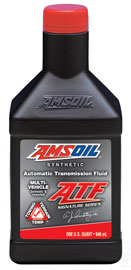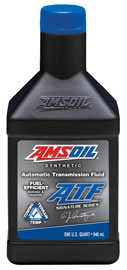 Attention Fleet Owners: Register today for a fleet account to receive special discounts on AMSOIL products.
Shop owners: Become an AMSOIL Retailer to sell or service with AMSOIL products.
or
Become an AMSOIL Dealer for $15 or preferred customer for $10


AMSOIL manufactures several automatic transmission products. Consult your owners manual for the proper recommended fluid or visit the AMSOIL Online Vehicle lookup guide for oils, lubricants, filters and capacities.