We recently sponsored our local classic car club here in Clarksville Tennessee. The Memory Lane Cruisers is a group of enthusiasts that own and love hot rods and classic cars. As an AMSOIL dealer it is my goal to be able to educate this great bunch of folks on the advantages of synthetic oil in your hot rod and classic car. Since 1972, AMSOIL has manufactured synthetic lubricants for all types of lubrication needs.
Today we are going to talk about some products that would help maintain and improve performance to help those classic cars run their best. With AMSOIL, you can be sure you are getting the best synthetic oil for your classic car or truck.
1. High Zinc Engine Oil
Many older cars were designed with flat tappet cams which in turn increase friction in the camshat and lifter surface. Using the proper lubricant for your vehicle is important. This is why AMSOIL has come out with the Z-Rod line as well as the High Performance series. If you want the best protection for your classic car AMSOIL has a product for you. To understand more about the wear protection needed for Flat Tappet Cams, check out the AMSOIL TSB on Zinc and Flat Tappet Cams.

Recommended AMSOIL Synthetic Motor Oils for Classic Cars:
AMSOIL Z-Rod 20w50 and 10w30
AMSOIL High Performance 10w40 and 20w50
AMSOIL Dominator Racing Series 5w20, 10w30, 15w50
AMSOIL Heavy Race Oil SAE 60
Also the AMSOIL diesel oil's 15w40 and 5w30 can be used if no other choice is available.
Note that the Z-Rod Series are formulated with high zinc and phosphorus levels to provide protection in gasoline engines with flat tappet camshafts. Z-ROD oils also contain high levels of rust and corrosion inhibitors for maximum protection during long periods of storage.
Shop Synthetic Engine Oil
2. High Performance Transmission Products
Many classic cars have high performance transmissions. The transmissions in high performance classics need the most protection possible. Older transmission designs coupled with high horsepower engines can produce excessive heat and transmission wear.
AMSOIL offers Transmission Lubricants for a variety of applications, from automatic transmissions to stand shift transmissions. No matter the type of transmission you have AMSOIL will work.
AMSOIL Super Shift Racing Transmission Fluid acts as a heat transfer fluid and by controlling clutch slippage, it helps reduce operating temperatures of hot transmissions by substantial margins. In low temperatures, AMSOIL Super Shift Racing Transmission Fluid flows readily for dependable startup and post-startup protection.
For manual Transmission AMSOIL manufactures a variety of products depending on application. You can
contact us
to find out the exact product for your classic car transmission.
Shop Transmission Lubricants
3. Severe Gear / Differential Oil
Rear wheel drive cars have a rear differential that allows you put power to those wheels. Did you know that at one time only 2 teeth are touching on your rear differential. This high stress point can build up a lot of friction and heat. Prevent any wear and reduce ring and pinion gear temperatures by switching to AMSOIL Severe Gear.
For maximum protection and performance the AMSOIL Severe Gear Synthetic EP Gear Lube is the best choice for your classic car gear applications. With a variety of viscosities to cover many recommended applications Severe gear offers:  Superior Film Strength Controls – Thermal Runaway Rust and Corrosion Protection – Helps Reduce Operating Temperatures – Maximum Efficiency – Long Oil, Seal & Equipment Life.
Shop Gear Lubes
 4. Fuel System Maintenance
As they say, Gas isn't what it used to be. Today with low quality ethanol gasoline as well as variable amounts of cleaning detergents (depending on where you get your gas) it's a smart idea to treat all gas as if it were suspect.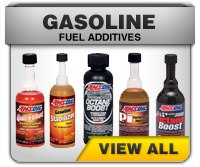 AMSOIL offers several gasoline additives to increase performance, offer fuel system protection and help decrease fuel degradation.
They say a oz of prevention is better than a pound of cure and in the case of gasoline, a few ounces of fuel stabilizer or performance improve can mean the difference of getting that classic car started in the spring or even worse being left stranded on the side of the road because bad fuel or fuel system problems.
AMSOIL Dominator Octane Boost can be used as a gasoline lead substitute at the same treat rates in collector automobiles, older off-road equipment and pleasure vehicles.
Shop Gasoline Additives
 5. AMSOIL Filters and other Miscellaneous products.
Don't forget, AMSOIL is a pioneer in high performance / high protection filters as well. From our state of the art Ea absolute efficiency oil filters to our line of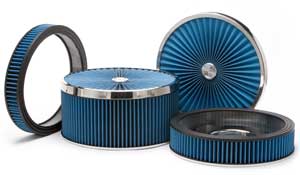 air filters for round filters for carbureted engines. AMSOIL Ea Air filters using Nanofiber technology media removes 5 times more dust than traditional cellulose filters and 50 times more dust than wet gauze. Unmatched 4-year/100,000-mile guarantee. The best news is that you don't have to use water or expensive cleaners. You only need compressed air or a vacuum to clean AMSOIL Ea Airfilters.
Shop Air Filters
Check out the entire line of AMSOIL Products for your classic car or truck by visiting the AMSOIL Online Store or Request a free catalog delivered to your door.
To get the best pricing on AMSOIL products become a preferred customer and save 25-30% off of Retail pricing. BUY AMSOIL Wholesale