In our previous announcement on December 9, 2011, when AMSOIL became the official manufacturer of Briggs and Stratton 4T Racing oil. AMSOIL dealers are now the exclusive distributor of this popular racing oil.
Now you can purchase AMSOIL formulated and manufactured for Briggs and Stratton 4T Racing Oil.
From go karts to speedboats, AMSOIL Inc Racing Division includes oils and lubricants for all types of racing. Since 1972, AMSOIL has formulated a wide range of synthetic lubricants for many applications. We are so excited for this partnership with Briggs and Stratton. AMSOIL Dealers now have that trusted name to help us work with many small engine shops to include Kart Racing.

While using competing oils in the extreme operating conditions of its racing motors, Briggs & Stratton experienced a myriad of failures and issues, including accelerated wear, foul odor, oil vaporization and very short change intervals. Looking to resolve the problems, Briggs & Stratton chose AMSOIL to formulate Synthetic 4T Racing Oil.
AMSOIL entered the partnership enthusiastically, formulating an oil that provides outstanding protection and performance in extreme operating conditions. Providing an oil exclusively for Briggs & Stratton's highest-performing racing engines strengthens the AMSOIL reputation for quality and increases brand recognition.
"We are really excited about this new relationship with AMSOIL," said Director of Briggs & Stratton Racing David Klaus. "After a year in development and our first race season under our belt, racers are seeing the benefits of an oil engineered specifically for the environment in which it operates. It is that understanding and recognition that should open a vast new market for AMSOIL Dealers."
Premium Synthetic Oil for Severe Racing Applications
Briggs and Stratton Synthetic 4T Racing Oil is formulated specifically to handle the severity of Briggs & Stratton modified competition engines used in kart, junior drag, quarter midget and other racing applications and is recommended for any four-stroke air-cooled competition engine, whether single- or multi-cylinder, splash- or pressure-lubricated.
Combining the protection qualities of a heavy oil with the performance benefits of a light oil, Synthetic 4T Racing Oil helps racers elicit the most horsepower and longest life from their engines. It provides outstanding protection in both stock karts and limited mod kart applications running over 10,000 rpm, with no sacrifice in horsepower. Racers using competing oils need both a light and a medium oil to achieve a similar combination of protection and horsepower. Synthetic 4T Racing Oil was dyno-tested using the Briggs & Stratton Animal engine, and proven to provide outstanding performance in the most-extreme conditions possible. It effectively resists the elevated heat common to high-performance racing engines, and it protects against the formation of corrosion between races and during longer storage periods.
AMSOIL / Briggs and Stratton Synthetic 4T Racing Oil
Formulated to Reduce Heat
Maximum Horsepower & Protection
Contains Powerful Foam Inhibitors
Resists Corrosion
Go to the AMSOIL Online Store to purchase Briggs and Stratton Synthetic 4T racing oil. AMSOIL products are sold through independent distributors. For best pricing and delivery please contact Michael Sparks, AMSOIL Dealer / Direct Jobber.
Racing Sponsorship inquiries welcome. We have available a variety of programs to help racers achieve maximum success.  Please contact me directly 931-801-9401 for more information.
With the announcement of this AMSOIL and Briggs and Stratton Partnership there has never been a better time to become an AMSOIL dealer. Besides racing oil, AMSOIL dealers sell lubricants and filters for all types of applications to include cars, trucks, boats, motorcycles, RV's, ATV's, small engines, diesel, and industrial applications. Contact Michael Sparks or visit our AMSOIL Dealer page for more information.

Note: Briggs & Stratton is the world's largest small-engine manufacturer, and karting is the fastest-growing motorsport in the U.S. Tens of thousands of racers rely on Briggs & Stratton engines at the track every weekend.

Even if you are are not racing with your small engines, AMSOIL has excellent products for lawn mowers, generators, tractors, diesel engines that call for SAE 30/10w30 and viturally any small 4 cycle engines. AMSOIL Commercial Grade Small engine oil is formulated with excellent synthetic basestocks combined with a robust additive package for extreme duty in all operating environments including winter snow blowing or summer high temperature mowing.
Check out AMSOIL ASE Small Engine Oil for all your high performance needs.
Purchase AMSOIL ASE Small Engine Oil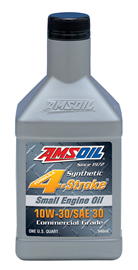 AMSOIL ASE is recommended Engine manufacturers include – Briggs & Stratton, Kohler, Honda, Tecumseh, Robin, Kawasaki, Onan, Kubota, Yanmar, Wisconsin, Power Train, Vanguard and Linemar.
Equipment brands include – Toro, Ariens, Sears Craftsman, John Deere, MTD, Bolens, Dixie Chopper, Yard-Man, Coleman, Murray, Troy-Bilt, Ex-Cell, Generac, Snapper, Simplicity, Ingersoll Rand, Wheel Horse, Homelite, Porter Cable, DeVilbiss, Poulan, Campbell Hausfeld, Massey Ferguson, Thomas, Bobcat, Kubota, New Holland and Caterpillar.