The rising cost of fuel continues to challenge the profitability of delivery services, beverage companies, energy providers and similar fleet operations. Administrators often must raise prices or apply surcharges to remain competitive, resulting in strained customer relations at best, and lost business at worst.
Fleet managers have responded with interest in products capable of increasing fuel economy. Even slight increases result in significant cost reductions for fleet accumulating tens of thousand of miles annually. Synthetic lubricants continue gaining popularity due to their all-around increased performance compared to conventional lubricants. They are recognized as cost-effective and legitimate contributor to increased fuel economy.
In a recent study, AMSOIL selected 2 test vehicles from Ford's Rawsonville Fleet. The idea was to measure fuel economy over a determined route to remove variability. The test route was 3.4 miles of city driving and 36.6 miles of highway driving. The trucks were identical except for the installation of AMSOIL Synthetic Lubricants. The result was that the AMSOIL truck had an increase in fuel economy of 6.54%.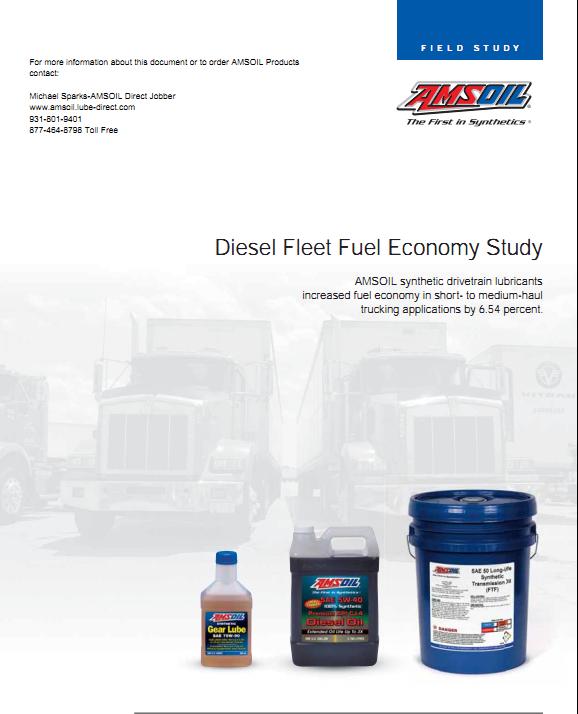 To get a better understand of the test please download the AMSOIL Diesel Truck Fuel Economy PDF. The scope and performance of each truck as well as overall Fuel economy evaluation is listed.



For more information about AMSOIL products or to find out how to increase your fuel economy with AMSOIL please contact me. Michael Sparks, AMSOIL Dealer / Direct Jobber.

AMSOIL Formulates a wide selections of synthetic lubricating oils for all types of engine and gear applications, including those for specialized vehicles and severe operating conditions. In addition, AMSOIL has developed sophisticated fuel additives, filtration systems and other companion products that supplement and extend lubricant performance. All are distributed through a worldwide network of independent Dealers. This complete line of quality products is recognized by countless private motorists, fleet managers and industrial administrators as the best and most cost-effective choice for increasing engine performance, reducing maintenance and prolonging vehicle and equipment life.
AMSOIL offers cost savings programs for fleets and equipment owners. The AMSOIL Commercial Account program is designed for businesses that vehicles and equipment. There is no cost to the business to begin this program. Contact Michael Sparks for further information or fill out an information request.
 Besides the best pricing on AMSOIL products, we offer:

Product cost analysis
Equipment downtime savings
Overall cost analysis
Oil Analysis interpretation and recommendation.
Michael Sparks -AMSOIL Dealer/Direct Jobber
lube-direct.com
931-801-9401
  If you liked this article please leave a comment and let me know!